Below: Coach Mosley getting Govind Nanda ready for Nationals. He is doing his strength training which involves resistance training, plyometrics, and speed drills. Govind has won Nationals in both Singles & Doubles and now travels all over the world competing....
Above: Coach Mosley with Pat Etcheberry, receiving his Etcheberry Certification at The Billie Jean King Tennis Center (US Open Site) In New York May 31st, 2012





Below: May 19th, 2012, The National Society of the Sons of the American Revolution awarded Coach Charles Mosley the Bronze Good Citizenship Medal for establishing Gion Tennis in Redlands, CA. in 2006 as the first Championship caliber youth tennis program in the area in many years, and for his vision and leadership in turning the tennis courts at Clement Middle School from an eyesore into the cleanest, safest, and most inclusive facility in the region. For his commentment to the ideal that through tennis, children can develop strong positive character traits of honesty, integrity, sportsmanship, and confidence. He is accompanied by two of his students who also received historic coins. Aria Tompkins 12 & Ross Sibley 10.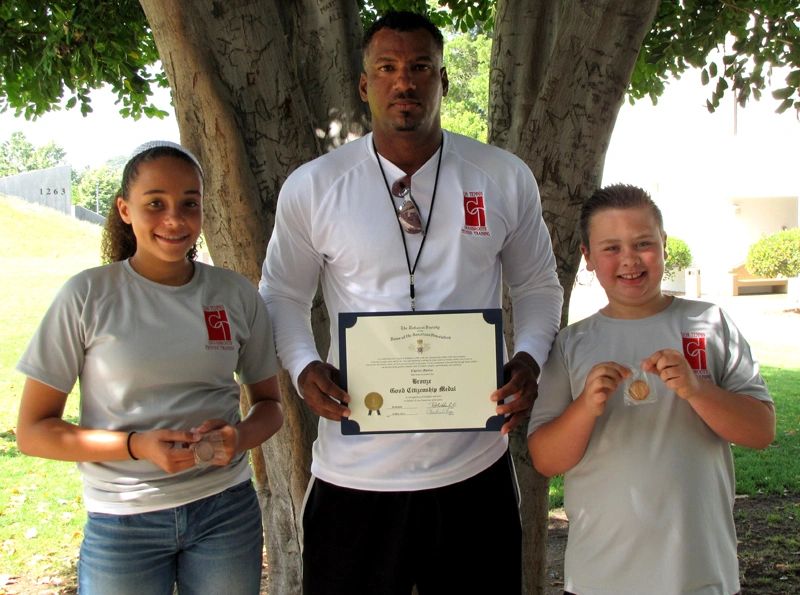 Below: Former #1 WTA player in the world, Lindsey Davenport with her son after competing with Arya Patel of Gion Tennis. Finals, Temecula, CA. USTA Sanctioned tournament. Arya came out on top in a very close match.
Above: Redlands Lil' Gions 10 & under team, USTA Team Tennis.
Below: Every year Director Charles Mosley takes his students to Indian Wells for "Kids Day".