"The Grassroots Approach"

Straight Talk


By: Charles Mosley

I truly believe from my experience that the "Grassroots" approach to tennis development among young tennis players is widely underrated and most often ignored. My experience working at a club or resort really did not allow me to find and develop kids at a high level of competitive play, so I decided to start training kids at the grassroots level. You see, I am very passionate about coaching and developing young players into highly skilled players who can compete at the highest levels. My experience teaching at clubs or resorts was that many kids were , for the most part, being dropped off for daycare and many had no desire to be there. That inspired me to start my own program.
I was determined to find kids who actually had the desire and passion to develop into good players and did not mind the hard work it would take. Also, to provide accessibility to the sport regardless ,of economic & ethic background. My objective was to use this great sport of tennis to develop character, work ethic, sportsmanship, and confidence. Having worked in a grassroots tennis program in Akron, OH., I saw the impact this approach had on so many kids and the community that these kids lived in. It was a "Win" "Win" situation. Kids went on to schools like Ohio State, Wright State, Hiram College, University of Dayton, University of Akron, and other neighboring schools on athletic & academic scholarships. These successes from the grassroots level motivated me to take the same approach. I have to admit, it was tough at first. I attempted to get a seed grant from the USTA to help with rackets and balls, but found out later that the USTA would only fund the same programs every year regardless of their productivity. So I stayed focused and determined so I took it upon myself and rounded up rackets from people who wanted to help, bought as many balls as possible, and found some courts and got busy. Little did I know, at the time, all the politics invovled in starting a tennis program. Other coaches in the area did all they could do to prevent the program from getting off the ground. One went as far as to take out a permit on courts that were never being used just to keep the program from developing. However, we eventually found a home, renovated the courts and surrounding areas from ground up, and continued to grow and develop players. Not just your average players either, nationally ranked players. As we are in our 13th year of existence, we now have the most successful grassroots tennis program in the Inland Empire. Some of our successes include a National Champions (Govind Nanda) & (Jada Hart) in both singles & doubles, 4 Southern California Team Tennis Championships and 2 runner-ups, A National Junior "Finalist", nationally ranked players, high school players, and kids who have now transitioned to college teams and the Professional level. In fact, Govind Nanda now plays for the Junior Fed Cup Team.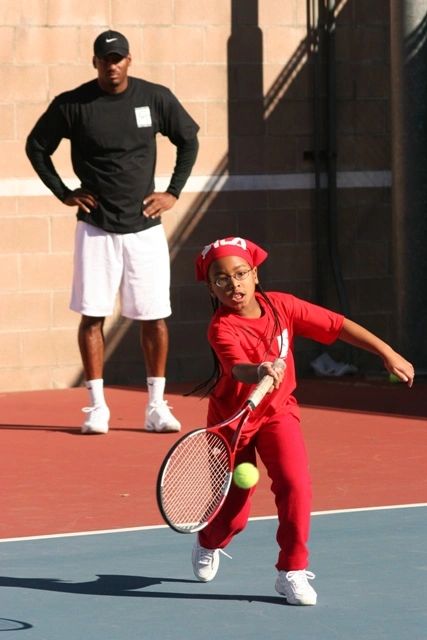 Above: Jada Hart at Age 7, training under the guidance of Tennis Pro, Charles Mosley.
Where is she now?
UCLA and by the way,
2016 US Open Junior Doubles Champion
Above :Maya Senthil, National level player displaying one of her many trophies.